Quezon City, April 27, 2023 – A home is one of the most expensive purchases one will ever make. This fact alone makes the homebuying process complex and overwhelming. With an abundance of properties and developers to choose from, homebuying takes a lot of time, effort, and deliberation before deciding which home to choose.
Are you one of these aspiring homebuyers? If you clicked on this article, chances are that you are looking for your ideal home right now. Choosing a condo can be challenging, but it doesn't have to be stressful. To guide you, here are some factors to consider when selecting Your True Home.
1. Location and proximity
Location, location, location. While cliché, it is crucial to consider your home's proximity to your school, office, and necessities. An accessible home is your key to living a convenient and hassle-free lifestyle.
2. Price and payment options
Knowing the base price and estimated dues is imperative when investing in a condo. Does it require an outright downpayment? Is the unit's monthly amortization affordable? Questions like these can be a dealbreaker when looking for a home. Remember: while purchasing a home may seem expensive now, you'll be able to reap the fruit of your efforts once you settle in your own home. You might even profit from it in the future!
3. Sizes and flexibility
Depending on your lifestyle and the number of people living with you, you need a unit layout to accommodate all your needs. For example, ask yourself if you need more rooms for a family member. Do you want an extra room for a home office? Or do you want a suite with a balcony? While this option still depends on the amount you're willing to spend, it's critical to make your new home comfortable in future years.
4. Amenities and features
Refreshing amenities are a must, especially if you are a working professional or a busy student who wants to unwind and take a breather after a long day's work. For starters, check if your preferred development is equipped with fitness and recreational amenities to aid in your relaxation and enjoyment to help you achieve your dream lifestyle.
Discover Your True Home with Empire East
You deserve a place you can call your home, one that can last a lifetime and, ultimately, Your True Home.
Nearing its 30th year as an esteemed real estate developer in the Philippines, Empire East has perfected the art of developing homes at the ideal sizes, price points, amenities, and features for every Filipino of every lifestyle.
If you're looking for a unit in a specific area in Metro Manila, there is an Empire East home for you. From a selection of transit-oriented developments, resort-type homes, and mixed-used townships, Empire East has the ideal home that fits your needs, requirements, and budget!
Empire East also features seasonal promos to help you get a score on savings on your future home. Watch out for upcoming promos that offer low annual lumpsum and flexible payment terms! Know more about their current offers by visiting their social media @empireeast!
Your True Home in Pasig-Cainta
Looking for a home that checks all the boxes? Empire East Highland City, the company's latest mixed-use township development in Pasig-Cainta, recently launched a fresh inventory of units at its Bellara Tower 1 and Tower 2!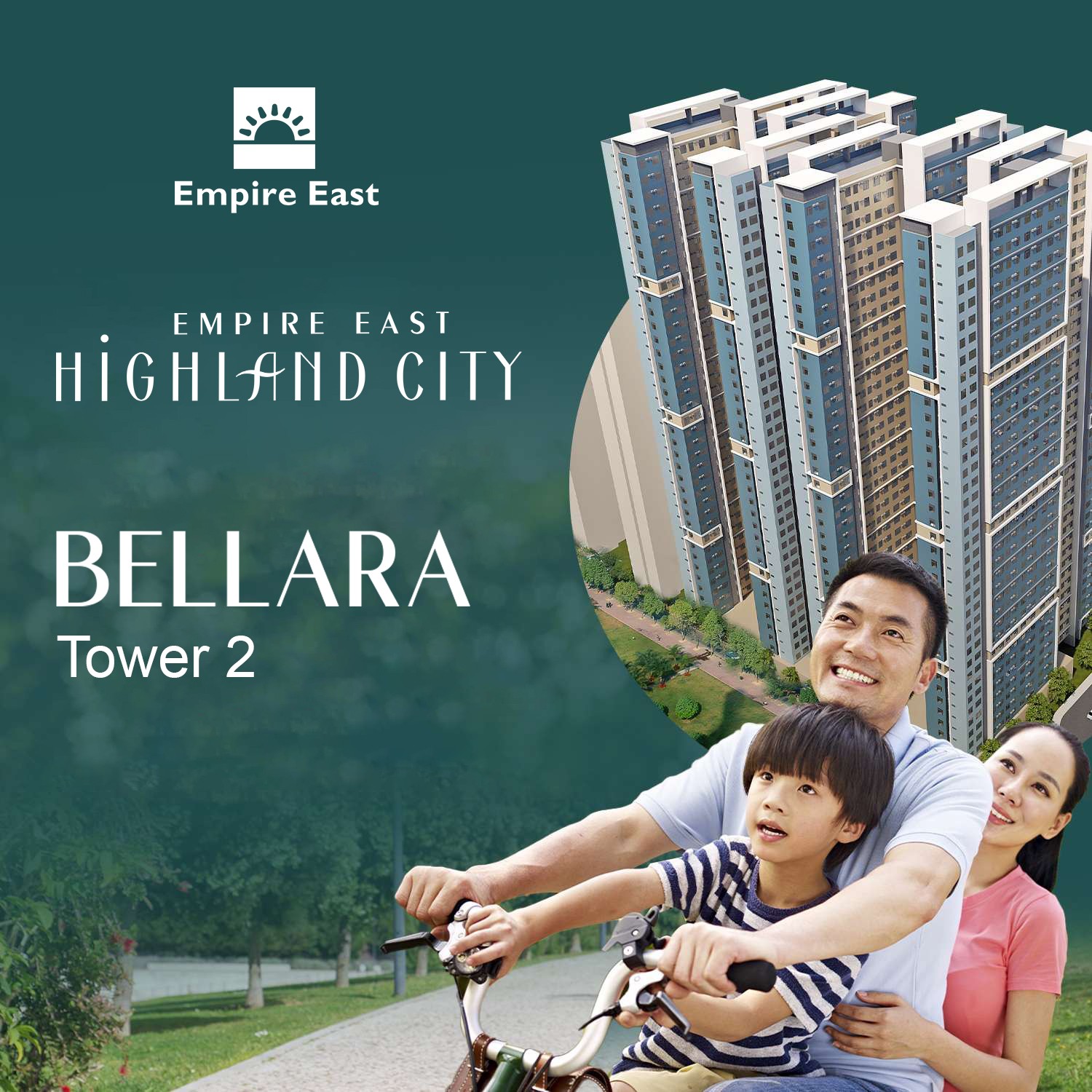 Its strategic transit-oriented location, breakthrough development concept, and irresistible payment options quickly made it one of the most sought-after addresses in the East of Metro Manila among aspiring homebuyers and property investors.
The upcoming Empire East Highland City features a luxurious shop-and-dine center, an expansive park that hosts greeneries, water features, a parish church, outdoor activity area, and a world-class membership-only recreation zone.
Condo suites at Bellara Towers 1 and 2 range from 21.38 sqm up to 46.50 sqm, now available at a huge 5% to 10% discount. This new residential tower features only 26 condo suites per floor at 37 levels. Buyers can choose their units at higher floors without price escalation and enjoy better views of the Metro Manila skyline or the Sierra Madre mountain range. Currently, 1-bedroom and 2-bedroom units are selling out fast, so hurry and reserve your slot!
About Empire East
Empire East Land Holdings, Inc. is a leading real estate developer in the Philippines catering to the middle-income and luxury market.
As the company treads toward its 30th year, its reach, influence, and developments also progress. With extensive experience in community development and a mission of providing quality residential communities, Empire East continues to pursue its vision of developing homes that help Filipinos live their aspired lifestyles.
Send us a message or email inqury@empire-east.com if you have any questions about our properties!
###